2017 Ford Explorer vs Toyota RAV4
Comparing Popular SUVs
When it comes to SUVs the Ford Explorer and the Toyota Rav4 have been around since the beginning of the model segment. Giving versatility and style, both vehicles have their strength. The 2017 Ford Explorer offers five models, seats seven and starts at an MSRP of $33,499 and the Toyota Rav4 offers nine models, seats five and starts at $27,445.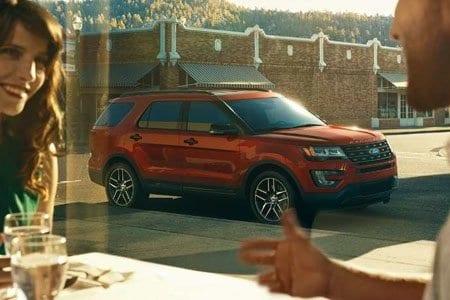 Efficiency and Power
When looking at these 2 SUVs the Explorer definitely edges out the Rav4 for power. The Explorer has a standard 3.5L Ti-VCT (twin independent variable camshaft timing) which creates 290 horsepower and 255 lb.-ft. of torque to the wheels. There is also. the upgraded 3.5L EcoBoost which uses turbocharging and direct injection. This engine pumps of a best-in-class 365 horsepower, plus 350 lb.-ft. of torque (standard in the Ford Explorer Sport and Platinum). Rav 4 offers the standard 2.5L inline-4 which creates 176 horsepower and 172 ft-lbs of torque. There is also the 2.5L, 4-cylinder Dual Variable Valve Timing Inline engine with Hybrid Synergy Drive creating which is highly efficient and creates 194-hp (NET). For EPA, the Explorer offers 12.6/8.6 / 100kms (city and highway), and the Rav4 FWD offers 10.0/7.8 /100kms (city/highway).
Looking at Tech and Safety
Although both SUVs are highly equipped with technological features, the Rav4 edges out the Explorer in the Safety Department. On the explorer you get an available front 180 degree camera (with self washer), and enhance park assist which helps in every type of parking situation using sensors. There is also a lane keep assist system. Inside the available sync 390 integrating cell phone to entertainment system allowing for streaming, app use, hands-free and navigation. On the Rav4 you get eight airbags, the STAR Safety system which focuses on braking and stability with functions like Brake Assist and Electronic stability control. To see what is around the vehicle Rav4 offers a bird's eye 360 view camera. To take things even further drivers get the Toyota Safety Sense P with functions like lane keep with active steering, radar cruise control, and automatic high beams. Luckily on both models the owners receive Blind Spot Monitoring systems.
The 2017 Toyota Rav4 is compared against the Ford Explorer SUV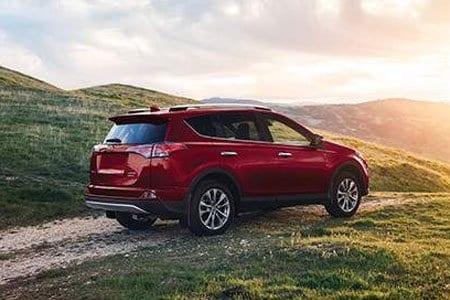 Super Style
Both SUVs are distinctive in the looks category. Explorer offers signature lighting and fog lights which are sleek and stylish. In the 2017 model year there are also three new colours being introduced this year. Explorer offers numerous character models and packages like the Sport, Platinum and XLT Sport which have a style unto themselves with distinct and consistent model branding across the board. Rav4 boasts a sporty stance with a focus on aerodynamics and agility. Smooth lines push air across the body surface to enhance efficiency. Sharp front and rear bumper design give the Rav4 an agile and aggressive look. Inside driver and front passenger get 8-way power adjustable front seats that are heated. Available dual-zone climate control and moonroof and tie the interior together and add comfort and ambience.